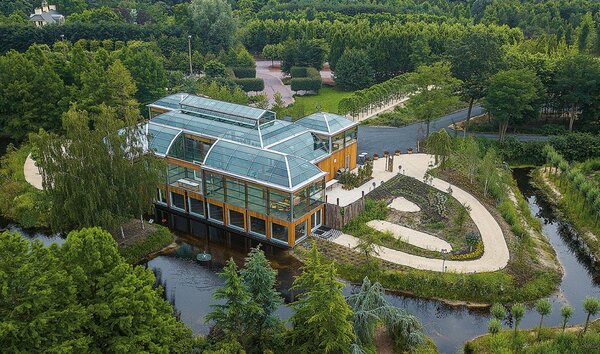 FEATURE: BIOPHILIC DESIGN
Published on 24 November 2020
While traditional construction is based on the idea to protect the human from the outside, biophilic buildings focus on connecting us with nature. The intelligent concept of the glass constructions enable a 'cooperation' with the natural elements like sun, wind and water. The result is a healthy micro-climate for the people who live, work or shop there. Garden Centre Owners embracing biophilic construction make a strong statement towards the growing group of environmentally conscious customers.
EFSA member Smiemans Projecten is a certified specialist in biophilic design and construction. Owner en managing director Jeroen Smiemans, explains the growing demand and the benefits of this forward-looking design.
What does biophilic design mean?
The word Biophilie originates from the greek language and means Love for Life or Love for the living. Biophilic design focuses on human's innate attraction to nature and natural processes. Our physical and mental health profits from 'biofhilia' when we are outside. Nature has a healing effect on our health.
What are biophilic buildings?
A biophilic building is an inspiring healthy place where you can sense nature on all kinds of ways. You can feel the connection with nature: see and sense the natural light, smell the pure air and even sense a wind flow. . There is no other building where nature is so perceptible/observable as in a glass construction.
Smiemans is specialising on biophilic development and construction. What type of customers request this type of design?
Our clients realize that people do not function well when they are indoors all day. Everyone prefers to stay in a light and fresh environment rather than a dark and musty surrounding. The use of glass automatically increases the size of the building, one does not feel trapped in a space. We have already built many projects for healthcare, now we also see an increase for offices and meeting centres. Actually, it's better for everyone..
Can you construct biophilic buildings anywhere or are there certain requirements a location has to fulfil?
Generally, it can be done anywhere. The best thing is of course a location such as the Bomencentrum in Baarn. The extraordinary pavilion we built is surrounded by trees. . A row of amber trees on the south side of the complex act as a sunscreen in the summer and in the winter the bare trees allow the sun to heat the building.. The adjacent water feature also makes an important contribution to the cooling of the property. On top of the wooden construction there is an ultra-modern glass roof that gives the new pavilion a natural yet stylish appearance. We also realized a biophilic greenhouse construction for Planon's head office that is used as a workshop, recreation room and showcase for their products. The design of EdenParks, where the connection with nature is central, is operating energy neutral.
Why should Garden Centre owners go for biophilic design of their store?
Because in addition to the many benefits for the visitors, it also has many financial benefits for the owners themselves. Think of a green roof, this ensures, among other things, water retention, heat regulation and energy savings. A biophilic glass construction also reduces the energy requirement indoors, especially in the areas of lighting, ventilation and temperature control. All excellent financial incentives for a biophilic design approach. But there are more benefits. A glass construction is also functional, affordable, technically advanced, durable and above all beautiful to see!
There has been a rising demand for biophilic architecture in the past years. Why do you think this is?
The lack of nature in our lives. Especially in urban areas one lacks the connection with nature. We either have less time to indulge in it or we simply live too far away from nature. We are more and more indoors. Especially in winter when the days are short, you see that this has a negative impact on the well-being of people. This is reinforced by the arrival of the Corona virus. Especially now ventilation and air quality are more important than ever.
More information about biophilic glass constructions can be found at Smiemans